Looking for a great downtown condominium in Columbus, Ohio?
Contact us and get The Competitive Edge in finding a great condominium. We know the area. We know the condominiums. We know the real estate market. Get the advantage you deserve with our representation.
Catch our talk with Joel Riley on News Radio 610 WTVN regarding the Columbus area real estate market.
Listen to the MP3.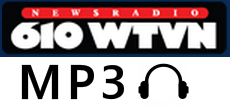 What's Available?
Some websites have outdated information showing condominums for sale that are already sold! This can be very frustrating.

Our tools stay up to date with condominiums that really are for sale throughout central Ohio. That's because our search information comes from Central Ohio's Columbus Board of Realtors MLS.

We have direct access to the Columbus Board of Realtors MLS and provide this information to our clients. With direct access there is no delay from the time a condominium is listed for sale to when we have access to the information. Contact Us about setting up a customized search with results emailed to you.
Downtown Condos on Out N' About Columbus
Lori and Judy are interviewed about the downtown Columbus condo market on Out N' About Columbus